As I sit here and try to write a piece about staying inspired, I find myself needing inspiration. Oh, the irony! The reality is, for most of us, our everyday, ordinary life is not that exciting. We fall into routines. We make dinner, wash the dishes, get gas--for our car! ;) We go through checklists: do laundry, get groceries, feed the dog. If we're not careful, we can get so lost in the details of the mundane tasks that we lose sight of why we're actually here on earth and what our purpose is.
We begin to have thoughts like, "Wait, is this it? Is this all I was made for?"
The answer is no. The answer is also yes. Don't you hate those answers?
"It can't be both!"
Well, yes it can and it must. You see, many of our mundane tasks make way for the miraculous. If we're able to live from that perspective and keep ourselves open, we will discover our life's clear purpose and a greater expectation for "the more" we long for.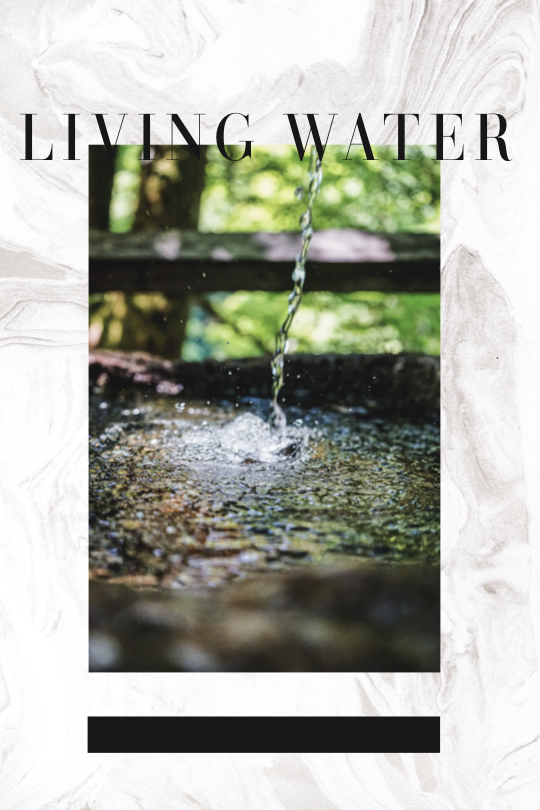 Let me give you an example from Jesus' life in a famous passage from John 4. One day, Jesus was extremely hungry, tired, and exhausted from a long day of travel and ministry. The Bible says "Jesus wearily sat by the well," while the disciples went to get food. Then, a Samaritan woman comes to draw some water, and Jesus asks her for a drink. The woman is in shock because Jews refused to address Samaritans, especially a woman. And yet, she engages. As their conversation goes on, Jesus begins to prophesy over her. He reveals himself to her as the Messiah, something he had not done to anyone else at that point. She's so excited by this that she runs to her village and tells everyone. Jesus ends up staying and many in the village are astounded and become believers.
Let me make two simple observations. First, Jesus never loses sight of his purpose. Jesus is tired, weary, hungry, and probably cranky. Can Jesus be cranky? Not sure. Even in this exhausted state, Jesus begins to minister Life to her. Second, the Samaritan woman was open to the miraculous in the middle of the mundane. How often did she come and get water? Probably so often that she could do it in her sleep. She could've ignored this person that was breaking all the social paradigms. She could've kept quiet, got her water, and left. Instead, she was available, open, and engaged with this miraculous encounter in the middle of her routine work. Because of her openness, her whole village benefited from her encounter.
Sometimes, I find myself on autopilot. I can be very focused and task-driven. While I'm out and about, I can easily overlook people and just quickly get in and out. But as I've invited the Holy Spirit to keep me present with His Presence, I've actually seen ordinary things become extraordinary. Recently, while serving at the Food Market, I offered prayer to someone who had, at first, turned it down. I could've ignored this gentle nudge from the Spirit, but I'm so glad I didn't. I offered prayer one more time, and she said yes, that she really needed it. As we prayed, the Holy Spirit overwhelmed her with peace and healing of her physical pain. Tears streaming down her face, she asked, "How did God know that I needed all that?" My answer, "Because He loves you sooo much. He wants to be the solution to every problem you have." It was a beautiful, inspiring moment.
Every time a moment like this breaks into my life, I realize, "This is it. This is why I am here and this is what I am made for." We have an amazing opportunity, in every seemingly ordinary situation, to see Heaven collide with Earth; to partner with the Holy Spirit who is never tired, and always ready to make things better. Like the woman at the well, I want to encourage you to be open, look around, and engage with the people around you. Take your co-worker to lunch, encourage your boss, offer help to your neighbor. I believe you will be surprised how quickly the mundane becomes the miraculous.